Sam ticks off all the above boxes for Experience, Negotiation skills, Property Knowledge and his prompt and precise communication skills. We went to Sam with just the idea or exploring the option of putting our house on sale by word of mouth and Sam was very responsive and took the time to setup a quick zoom call and answer all our questions and exuded confidence on selling our home within 30 days which put our minds at ease and made us feel completely comfortable choosing Sam as our Realtor. Sam actually was able to sell our home within the 1st week of it being listed and also did some pre-market analysis. Sam also went above and beyond by offering our tenants a clean out service at his own cost to thank them for being cooperative during the showing process. We would definitely recommend Sam to anyone looking for an awesome Realtor as he has a strong understanding of the market and how to list for success.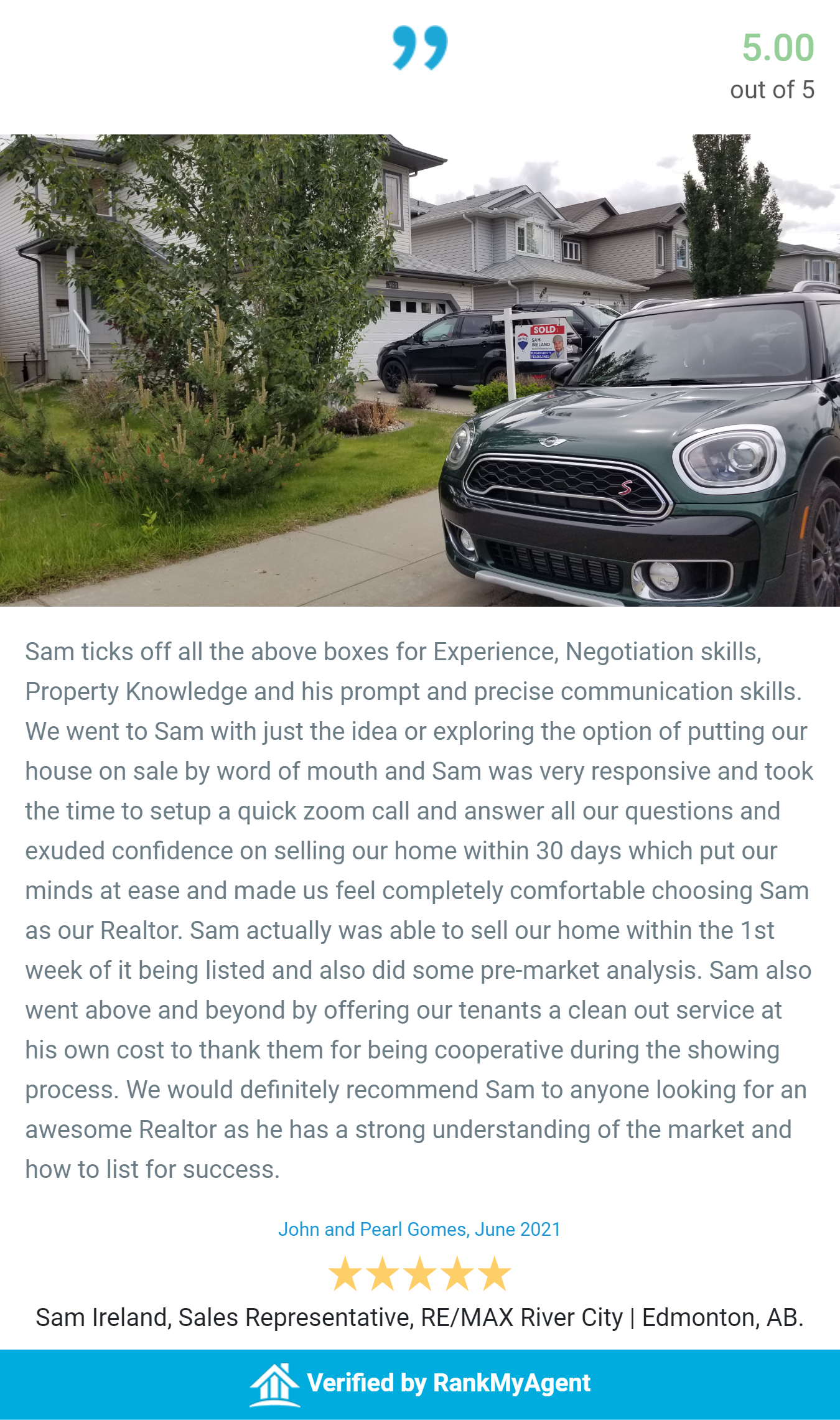 John and Pearl Gomes
I can't speak highly enough of Sam as our real estate agent. He was extremely honest, upfront, and was able to find us a great house that fit in our price range. He gave it to us straight and never made us feel silly about the all the questions we had as a first time buyers! I'll definitely reach out to Sam again in the future and I recommend him to all my friends!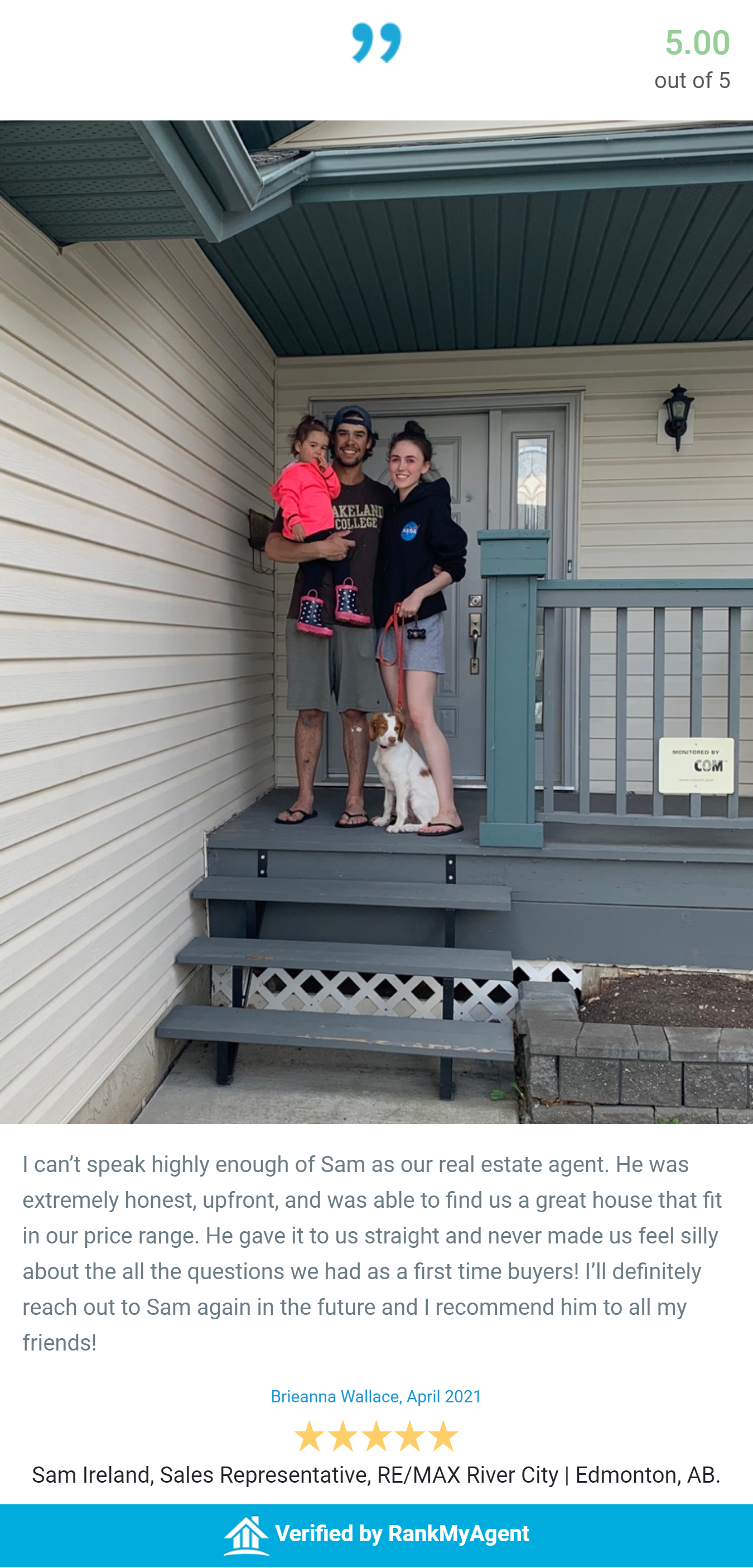 Brieanna Wallace
Sam was amazing, he has extensive knowledge of properties. What to look for in area's of concern. He puts in the work needed to make deals happen. He was always 100% professional and went the extra mile. Without Sam we wouldn't have gotten into our dream home, we owe him big for that.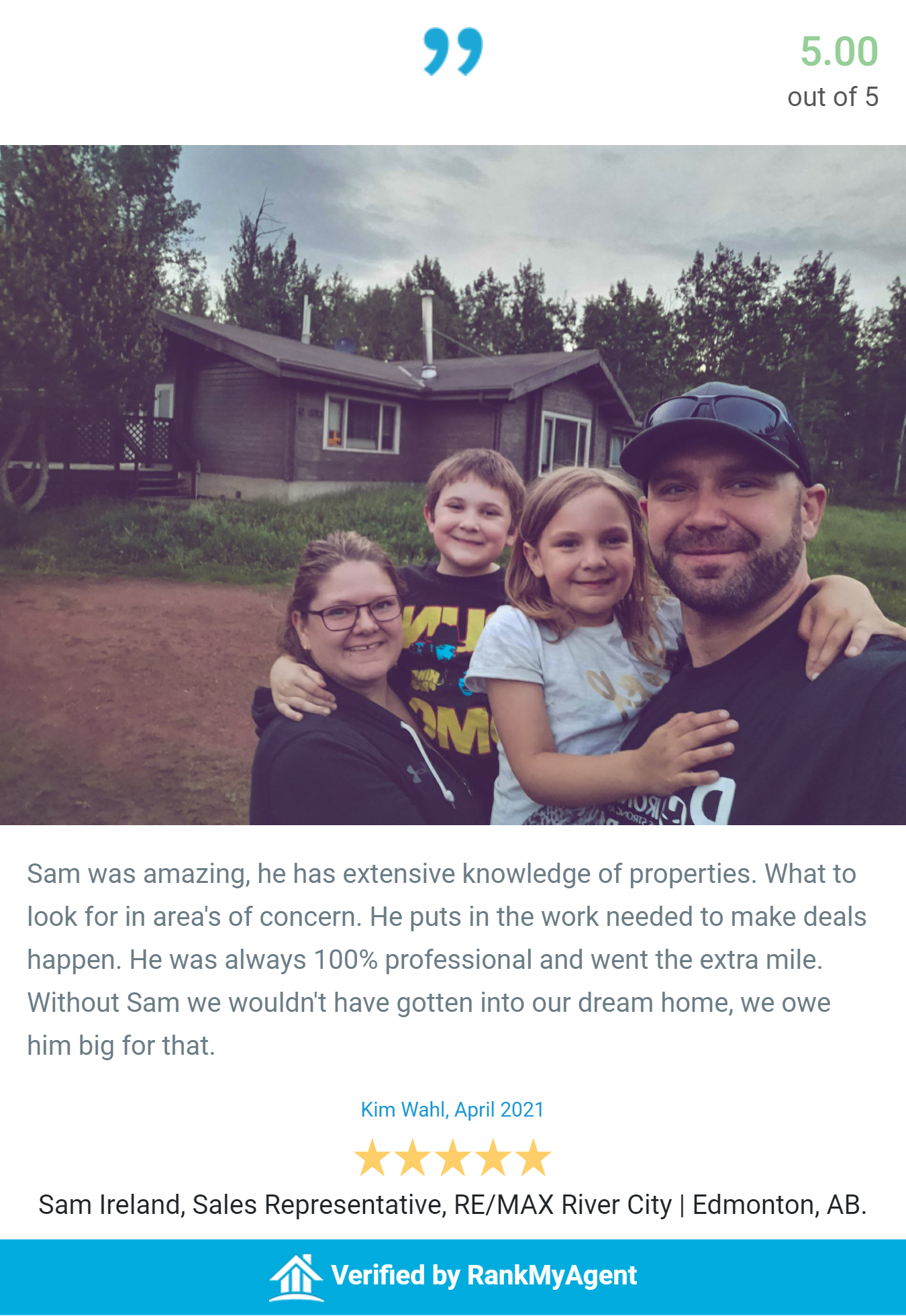 Kim Wahl
Sam was incredibly knowledgeable about any questions I had during the buying process, possible renovations and general value of homes. As a very cautious person it put me at ease knowing that Sam had my best interests in mind.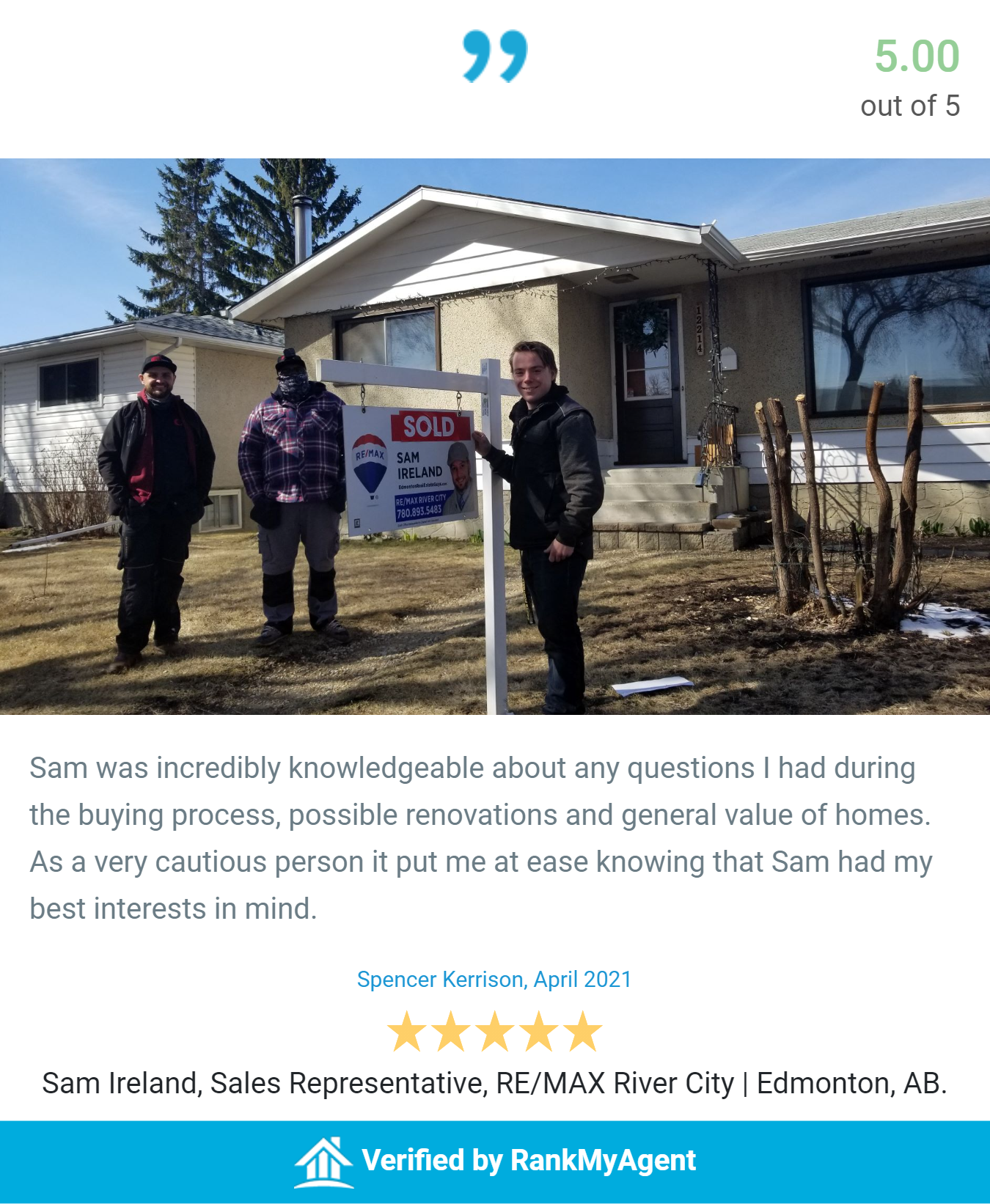 Spencer Kerrison
Sam was extremely knowledgeable in helping us sell our home. He was able to help us come up with a fair market price to list at, he shared tips for staging and making the house look its best, and was always available to answer any questions we had.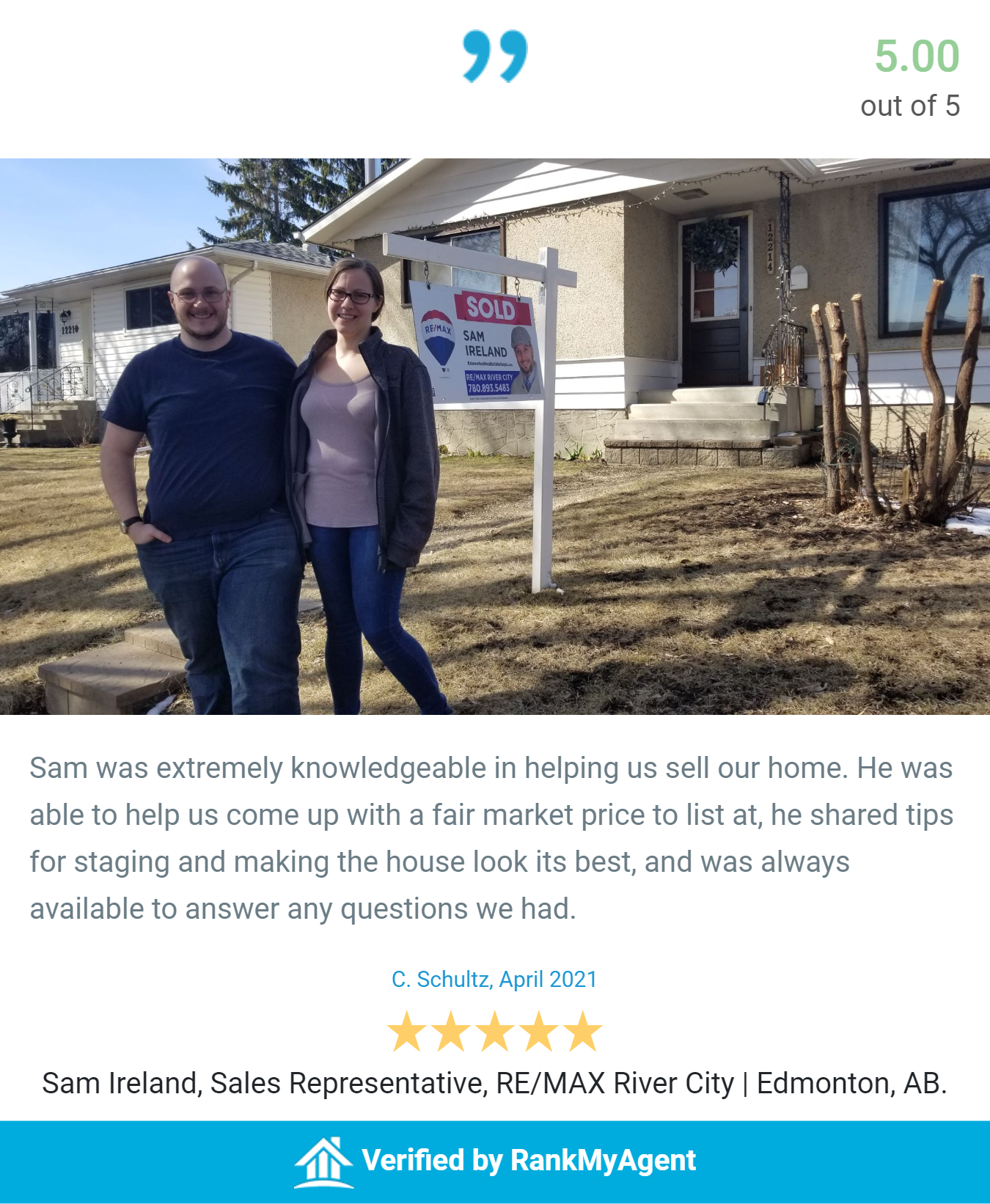 C. Schultz
Sam Ireland such a professional, knowledgeable and comunnicative agent. He help me and my family found OUR first home .First time in my life I saw person who was honest and super knowledgeable about his job . Always on time ready to work .Super patient and comfortable. He knows exactly how to make perfect deal also he has great network around his profession if you need inspection,lawyers or etc . He is trustworthy and KNOWS HIS s**t!!! HIGHLY RECOMMENDED !!!THANK YOU SAM :) WE APPRECIATE YOU MORE THAN YOU KNOW.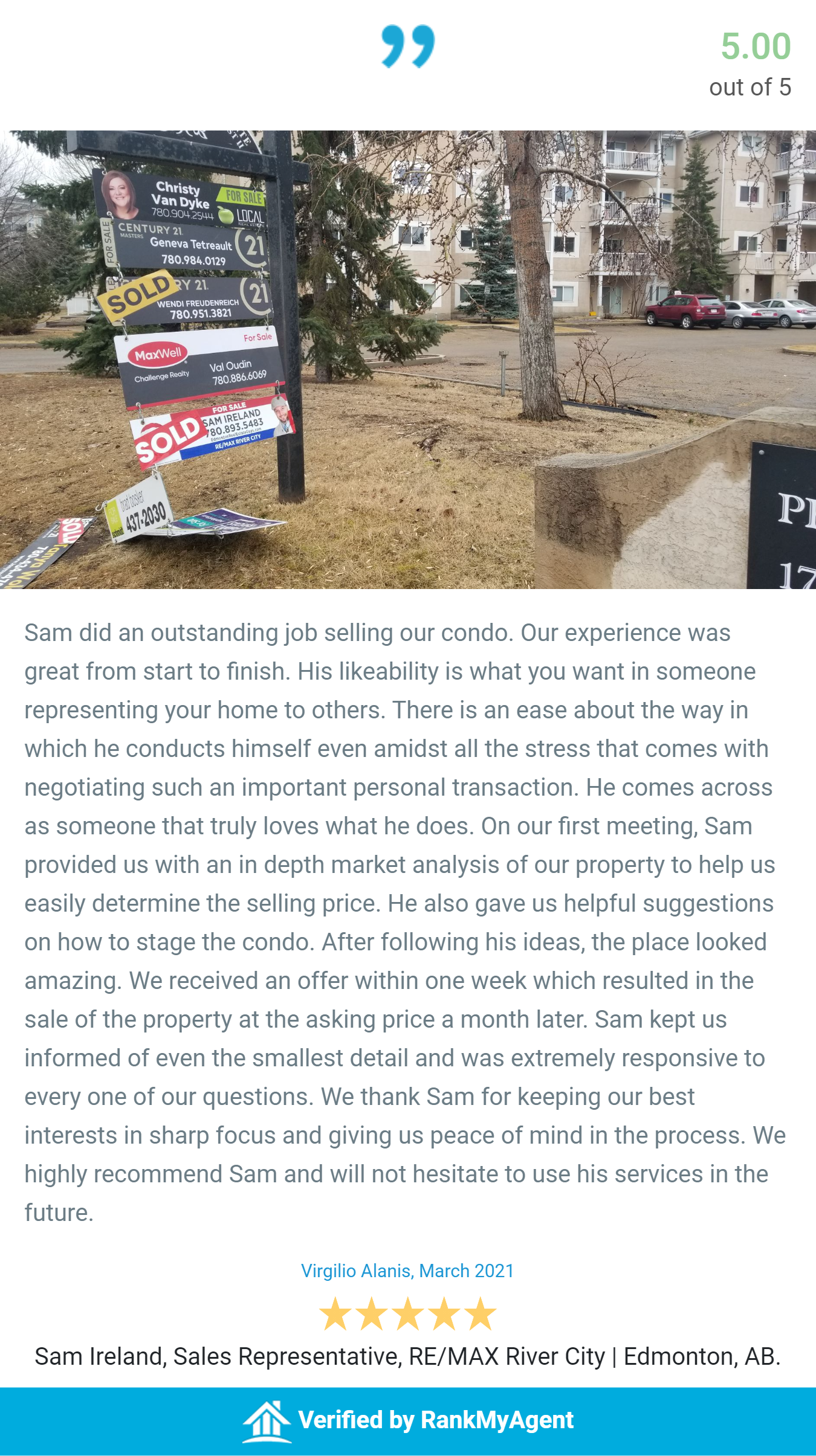 Virgilio Alanis
Sam is an excellent listener. He knew what we wanted from the first time we met him. He was very helpful with questions we asked him, no matter what time of the day. He insured confidence in us with the sale of our home, and gave us information that answered our questions, before we even asked them. He helped us find our new home and made sure that we were happy with the decision on it. Sam is very patient, knowledgeable and helpful. Our thanks to Sam. We will recommend you to our family and friends, should they decide to sell or buy!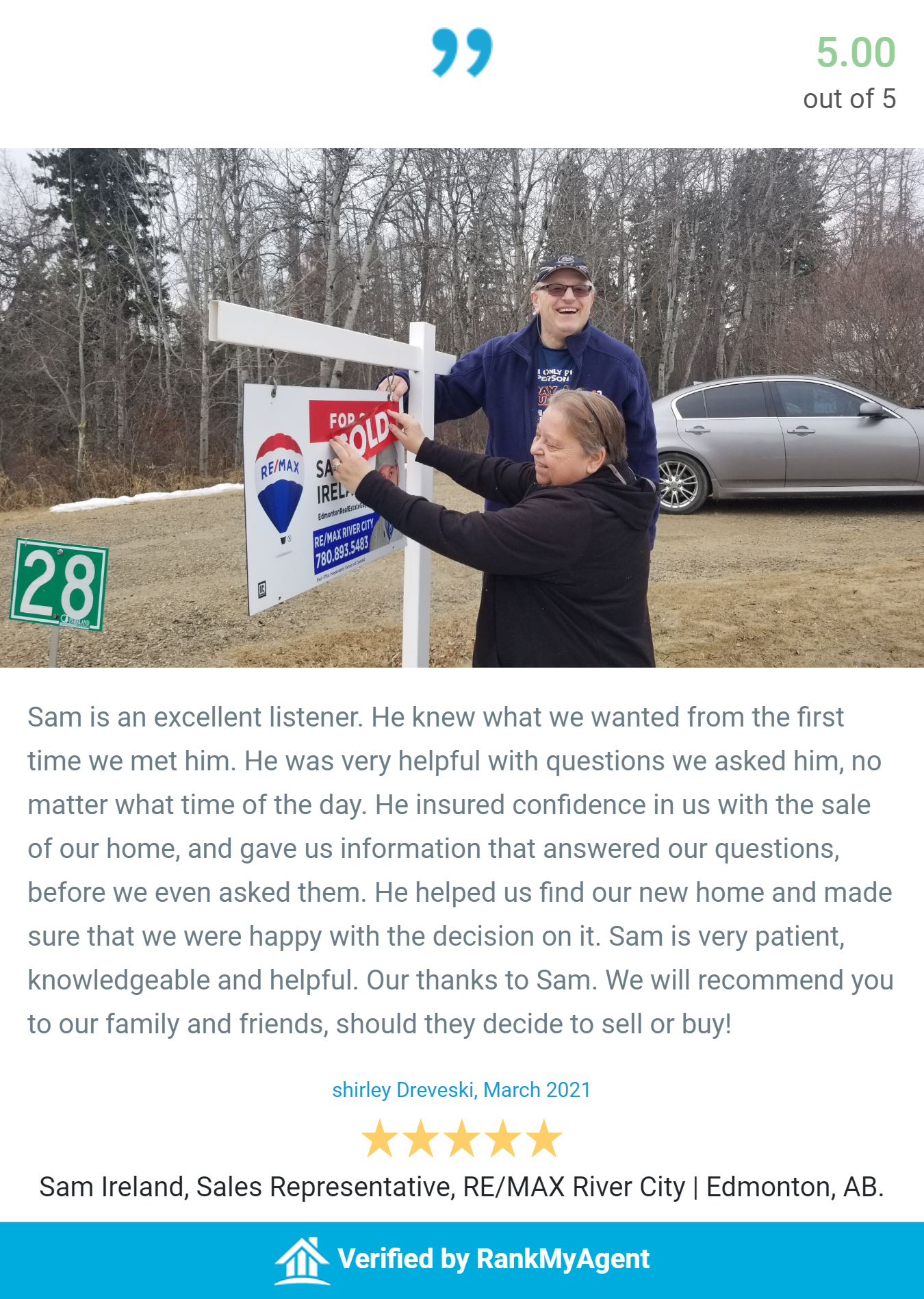 Shirley Dreveski
Sam was the perfect realtor for us. Once we were ready to start looking we gave Sam a massive list of properties to look at and he got us into every property we had requested and the next two days we had his undivided attention. The first day we had 3 kids 9 and under and Sam took the time to entertain the children while we looked at the houses. Sam was very knowledgeable with every property we looked at and we did not feel pressured to make a decision. Would highly recommend Sam if you are looking for an amazing realtor.
Bonnie Abstreiter
Professional but so down to earth; Sam shoots straight from the hip and works to get results ... F A S T ! Although our process was relatively quick, no details were overlooked. Always available to walk me through scenarios, answer my questions and deliver with a quick follow-up if needed. Hands down amazing in the sale of our home! Much gratitude for your expertise Sam!!
Anita Sieben
Sam went above and beyond to market my home, he got me top dollar and multiple offers. He was always available and quick with an answer to any questions, I would highly recommend Sam he is the best choice.
Donna Radke
When my husband & I decided to sell our property, we chose to go with Sam, who I crossed paths with doing my business. I was attracted to his calm, pleasant & reasonable personality. So, choosing him was an easy decision. During the listing to sale process, he impressed us with his punctuality, his "easy to deal with", professional & non intrusive nature. Simply put, he made the whole process easy & smooth. My husband and I, take this opportunity to thank Sam Ireland for his guidance & assistance and recommend him very highly to anyone looking to buy/sell real estate. THIS man can deliver! You'll save yourself time & money. - Ivonna L.
Ivonna Lobo
This is my second experience working with Sam. He did a wonderful job the first time helping me to find and purchase my home. This time he did a great job selling my home under extenuating circumstances throughout the covid-19 protocols. Sam is the consummate professional, extremely diligent, undertook the research needed to market my home, and I trusted his advice and guidance throughout the process.
Judy Downey
Sam is absolutely fantastic. Very knowledgeable and professional throughout the entire process. Communication with him is always quick and easy, as was my experience with buying and selling with his guidance and expertise. You can completely trust Sam and all advice he sends your way. He is also an enjoyable person to be around, which makes all interactions fun while still professional and goal-oriented. He goes out of his way to make the process of both buying and selling as seamless as he can for his clients. Thanks Sam!
Ashley Rodgers
Mister "under the hat" did it. Find me what I wanted. Five stars everywhere says all, I think. No doubt I will use him again.
Tasos Gnafakis
Sam is very knowledgeable, helpful and just an all-around nice guy. He has been of service to my family for several years Now and we are always happy with the results. I highly recommend him for buying or selling your home!
Dawn Bucilla
When we decided that it was time to sell our condo and look for more room for our family Sam was the first and only person we thought of. He came over to our place to get an idea of what we were offering and then sat us down and had the real talk with us. He ensured that we were informed on what to expect, explained the market and let us discuss from there. All while entertaining my two headstrong rambunctious children. We came to a selling price, signed the dotted line, and off to market we went. It was chaotic and stressful for us but Sam was calm, patient, informative, and extremely innovative on how to make us stand out. He knew what our end goal was and worked his hardest to make that happen, and it did. We sold our condo and then came the fun! Knowing our family and what we desired in a home we sent him listings and he added a few of his own. He took us out and we looked at the good, the bad, and the down right scary! Not once did he deter us from a listing which we were forever grateful for as this helped us to narrow the field further and further. We finally found the home that we could see our family in thanks to the hard work of Sam and his team. Now we are living in our spacious home with the yard our kids needed to expand that endless energy and it wouldn't have been possible without Sam and his team.
Fiona MacPherson
Excellent realtor and a great person. He knows what is going on with the markets and keeps you informed while going out of his way to help you with anything you may need. ?????????? Call him, you won't be disappointed
Derek Yuill
Sam provided excellent advice and options for preparing and staging the property prior to the sale. He was always available for assistance and advice if something need to be done during the sales process. He provide great feedback during the showing and negotiation process. He had a well developed process and the execution was flawless. Best of all the property sold quickly and the closing process went smoothly.
Arthur Mah
Is personable, has an excellent system for his clients. I have worked with him for years. He is constantly growing to give his clients the best service he can.
Amith Pratap
Sam was very helpful both with selling our current home and assisting us in the purchase of our new one. Despite working through some very challenging market conditions, he was able to arrange a sale and did a great job using unorthodox means like a virtual open house, and got us a better selling price than several comparable homes selling at the same time in our area. He was always very communicative and easy to get a hold of, and happy to answer even our most trivial questions.
Kenzie Gordon
Yes, Sam Ireland is one in a million as a Real Estate professional.
He is caring, and exemplary in all his dealings with both his client, and
the others working along with him.
From the beginning to the end of the difficult process, he can provide
all that is needed to [buy] or sell your home. He is extremely diligent.
Jane Gibson
It was an absolute pleasure to work with Sam. He is knowledgeable, professional and patient. We were able to sell our home at the price that we wanted thanks to his expertise. It was not an easy task to list a home during the pandemic. But Sam did it. Thanks Sam!
Trinh Reyes